We've all heard the hype, from presenter Katy Perry's outfit changes to Megan Fox's overly botox, creepily perfect face. One thing I love about these awards is the outfits and I find that I gain more inspiration from the TeenChoice award than I do from let say the Oscars. This is mainly because the Teen Choice awards are alot more casual. They arn't about glitz and glam on a high scale since people tone it down for the youngsters. This year was no exception either...
Thumbs up;
Victoria Justice.
I love this outfit. It is so simple and effortless. The blue is a gorgeous shade that really pops against her skin tone. The shoes that have been teamed with the dress are making my heart skip a beat. I love leopard print and I think it was great that Victoria didn't fall down the same black pump trap like alot of others do. This outfit is definitely a great look!
Selena Gomez
What a lovely dress. Again a very simple look but it still looks great. I do howeve think the shoes don't really match the outfit. Colour wise they arn't bad but the shoes would be really interesting with another outfit.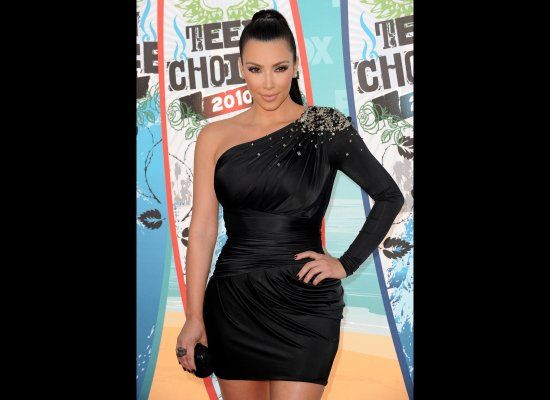 Kim Kadashian
You know, so many articles have called this trashy but I liked her look. She really toned it down for these awards which is great and plus she knows her style. Many of you may have been noticing her newest thing for one armed dresses but who cares at least she is on trend!
Kristen Bell
I love this Stella McCartney dress. The colour is really fun and the shape is really flattering. When I first saw this dress I didn't think it was that great but I'm off the fence now and I really think this is one of the best outfits of the night!
Troian Avery Bellisario
I like the sparkles, I like the cut outs and overall including the make up I love this look!! Classy but not too adult for the occasion. I also have some shoes just like this [
... but obviously her's arn't from the British highstreet
] so extra points there!
Megan Fox
I really really like this outfit. The clothes are by Isabel Marant. I think this is great because Megan must find it quite hard at occasions like these. The nature of the work she does means that we relate the things she wears as being to seductive but when it came to the teen bash she really played it off well.
Thumbs down;
Yvonne Strahovski
Ill advised. This outfit would be nice somewhere else but this is TEEN choice awards. I don't this was really appropriate. I like the shoes, coral is a really on trend colour for summer but I'm just really not a fan of the dress at all. I also think she should of had her hair down since she has beautiful hair.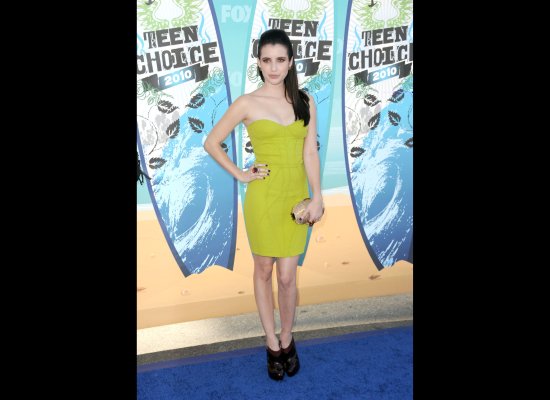 Emma Roberts
Oh no, seriously? I really am not usually such a trash talker but this is awful. I'm all for pale skin tone since I'm a complete milk bottle myself but this outfit makes her look so awful. The colours really are not flattering. The cut of the dress is so strange, you look at the top and think oh nice cocktail dress, but no you are confronted with this length at the end that covers one of Emma Robert's best assets!
Jenna Dewan
She looks like she's going to some sort of school disco. I feel like no effort went into this outfit at all. I know she played it safe with black but it didn't work =|.
Katerina Graham
Oh thigh high boots, how I hate thee. Now this overall outfit is awful! From the strange gill things on the dress, to the boots, to the tacky pink lipgloss. This here is a beautiful women. Why is she not showing herself off?? I must mention though that there are points there for the hair, that was probably the only successful piece.
Love J.