The make up forecast for this summer shows blue sky's for all! [Unless you're like me and thinking literally about the awful U.K weather ahead!!]
80's-phobes beware blue eyeshadow is back and is no longer a remnant of your teenage make up experiments! For a while now I've been draw to Royal blue colours and I can now confirm that all those pastels we stocked up on have a new competitor. Don't get me wrong pastels are still this summers hit, but blue is most definitely catching up!
So to give you little bon bons a feel for what is to come I thought I'd explore some of my favourite shades of blue to maybe give a helping hand in picking a shade that is right for you!!
Urban Decay.
Urban decay has some great shades out and guarantees quality so I thought I'd be faithful and start with an old friend =]!
This is Adore from the dulexe eyeshadow range and last time I checked it was 7 quid in boots! For the amount you use it, it is a bargin! I love love love this colour but if you want to go brighter...
This is peace, same deluxe range and the same price. This colour is brilliant. I personally find Adore alot more versatile but if your brave enough to try and pull this colour off it's gorgeous! Also if your the sort of person who prefers to buy in bulk this is in the Deluxe eyeshadow box. I'm all for bright colours so I have the palette myself. It comes in a really cute purple palette with 2 applicators, 9 eyeshadows and a small primer potion. I think when I bought mine it was 18 quid but that was a while ago so you might get lucky and find it cheaper!!
Barry M
Another of my favourites! There are so many different shades of blue but I've tried my best to pick 2 great ones but I urge you to check them out for yourself as everyone has there own taste.
This is from the dazzle dust range and it is a slightly glittery deep, bright blue. Although it's harder to control than pressed power you get a great colour coverage and the colour is really intense.
This is block blue, a complete contrast I know but I though it might keep those people still holding on to pastel colours intrigued. This is a lovely colour and it is very versatile but like I said if you don't like these 2 pop into Superdrug or get online because you are bound to find something you like from Barry M. All the Dazzle Dust are priced at 4.50 each with is a great price, although if you buy online you may have to pay for shipping.
It's not just eyeshadow though! Barry M do a great selection of ''Intense eyeliner pens'', they are different to the Kohl ones as they are softer and alot brighter. This one here is in kingfisher and if you're a fan of Urban Decay's electric then you will like this. It really adds a pop to your eyes. Also at a price of 3.50 you really can't go wrong!!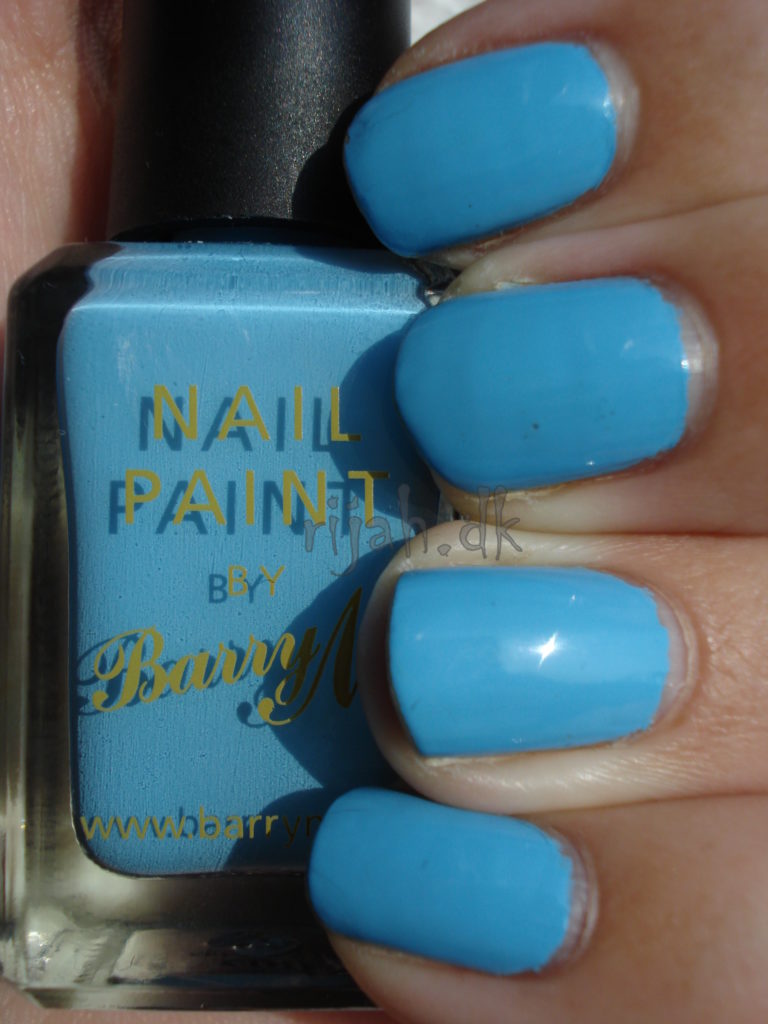 As for nails Barry M once again has to covered with a massive selection of shades to chose from. This is Blueberry Icecream from there new range of pastel colours. Barry M nail paints are great value at only 2.95 a bottle. They have resently won awards for them including an Instyle best beauty buy award!
This is another colour called silver sea. This picture doesn't show it off great because the person has taken it with only 1 coat on, but for one coat it's pretty good!! It is a more metallic colour than the above so it has a nice shine to it . However if you don't fancy this shade of blue but you still want a metallic finish then they have more shades and separate iridescent glitters to top coat over your chosen blue!
Eyeko
Eyeko is deffinatly going to be a hit this summer. It's becoming a new must have product and there has been alot of buzz about the company resently. Don't forget! Whenever you spend over 10 pounds at Eyeko and use our code: E8604 and you recieve a free gift!
This is the ''Pop star eyes'' from the Eyeko ''Line and shine'' range. It is a double ended pencil so it is really easy to travel with and apply. If your brave enough to go this bright this is a must have product!! At only 4 pounds it isn't going to make your bank brake either which is great for any of you bon bons embracing the recessionista within!! There is also a great deal on at the moment for 3 pencils for the price of 2 on right now so I'd suggest to get them while you can!!
Eyeko's nail polish in Indigo give great coverage! Also I noticed that it is quite chip resistant. While at college I am forever chipping my nail varnish in the art department or while typing away on the computers but I got through a whole day [Which is actually a bit of a record!] without chipping my nail varnish and having to reapply. Also Eyeko has this polish in a set of 5 for the price of 4 at only 14 pound right now which gives you the perfect oppertunity to use our code and get yourself some free goodies!!
Chanel
Everyone is going quite over the top about the new jade shade of nail polish but seriously they are forgetting my favourite shade!
This is Blue Satin. My favourite shade. I have only ever had this bought for me. I can't justify the 20 pound price tag being a student!! I save it for special occassions!! I don't really need to sell a chanel product to you do I? Right then! Enough said!!
MAC
How many of you guys are complete MAC junkies!! Tumblr is full of them!! I bet you were wondering when I would mension them haha!! I couldn't really not mension them could I!!
This is Shimmermoss of the new ''MAC to the beach'' collection. Unfortunatly this wasn't anywhere in Manchester when I went hunting for it. It could have been sold out however because it is new so I would suggest having a search. I would say Selfridges is your best bet. This shadow has a lovely green shine to it and is a great shade!!
This shade is called winkle. It was one of the first colours I had from MAC. It isn't to bright and is a real wearable shade, when I say wearable what I mean is that you're not teaming an outfit around the eyeshadow. It is a really casual shade and goes with alot of colours and styles.
Gosh
Gosh are really left out I think. They don't get alot of hype and they really are a great company. They have some really vibrant colours that I love. They do ranges of pigment dusts and compressed powders, also you can get single, duo, or trio compressed powder sets which are really handy!!
This is Aquatic. It is a slightly green shade of blue. It has a gorgeous metallic shine that I love. The eyeshadow seems to stick really well with a base wich sometimes you don't get with pigment powders.
How handy is this guys!! A blue trio set called Aquarius. The colours in here are great and are really bright. There is a mix of shades so you can maybe experiment by blending with a few!!
Don't just take my word for it though!! There is a world of colour just waiting for you to come and do some experimenting with!! Get out there in the stores and start blending and trying out new shades to find the perfect one for you.
Remember this summer; Be bold, be brave and be blue =]!!
Love J .